Susan Greene - Freelance Copywriter
for Websites & More
Get Professional Marketing Copy
Without Paying Ad Agency Fees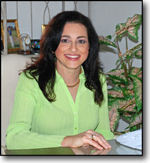 You've come to my website, so I suspect that you already know the following: copy is important. While pictures are nice, words are what ultimately convert a prospect into a qualified sales lead.
Hello, my name is Susan Greene, and I specialize in writing marketing copy, the kind that gets attention and delivers results.
Consider these questions:
Do you need a new corporate website?

Could your current website benefit from search engine optimization?



Would you like your website to convert more visitors into customers?



Could a corporate brochure or newsletter help build your brand?



Might an engaging

marketing

letter or direct mailer stimulate sales?
If you answered "yes" to any of these questions, then I can help. Based in the Orlando, Florida area, I've been a professional freelance copywriter and marketing consultant for over 20 years. I'm a straight shooter who can quickly zero in on your needs and provide winning solutions.
I have the proven experience to write compelling copy for any of the following for you:
| | |
| --- | --- |
| * Websites | * Brochures |
| * PR Materials | * Ads |
| * Marketing Letters | * Direct Mail |
| * Technical Articles | * Sales Proposals |
While some of my clients are based in Florida, I work with many others who are located around the U.S. and the world. Location is not an issue.
Neither is project size. From a few lines for a print ad to a large, comprehensive website that gets page 1 ranking on the search engines, I can craft successful promotions that increase your profits. Furthermore, as a freelancer, my rates are below what you'd pay a traditional ad agency.
Whether you have existing marketing copy that just needs editing or you're attempting to put pen to paper for the first time, let me write something that you'd be proud to have represent your company.
I've helped many businesses get results selling their products and services. I can do the same for you. Contact me, Susan Greene, today: (407) 578-5528 or FloridaCopywriter@gmail.com.
© 2014 Susan Greene, freelance copywriter. All rights reserved.